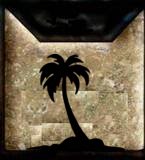 SandClan
These cats are known to be loyal, brave, coragous, strong, and powerful. After the Last Hope, Sandstar (Sandkit at that time) found her friend, Gingerstar (Gingerkit at that time), and found other cats that had scattered after some time after the Dark Forest Battle. They gathered cats and became allies with Darkstar, and lead the way to the island finding the sand, ocean, and sun they were seeking, and when that happened, Sanstar quickly added a new code to The Warrior Code...
"As if each clan desires help from other clans, they will allways get as they deserve in well being."
To the north is ForestClan , to the east is StormClan , and diagonally to the north is DarkClan .
Main Rankings
Leader
Cometstar (Apprentice Shadowpaw)
Deputy
Flameheart (Apprentice Scarpaw)
Medicine Cat
Spottedfire (Apprentice Halkpaw)
Other Cats in the Clan
Warriors:
Stormshadow (Apprentice: Darkpaw)
Hollyfrost (Apprentice Heatpaw)
Flameheart ( Apprentice Scarpaw)
Copperfrost
Apprentices:
Halkpaw (Medicne Cat Apprentice)
Heatpaw
Darkpaw
Shadowpaw
Scarpaw
Kits:
Saltkit
Saturenkit (Kit)
Marskit (Kit)
Neptunekit (Kit)
Sunkit (Kit)
Asteroidkit (Kit)
Uranuskit (Kit)
Nightwing
This clan is in BoltRocks999's forum
To see a list of all cats, visit the Cat Directory.
Community content is available under
CC-BY-SA
unless otherwise noted.