Hollyfrost
Edit
Hollyfrost is a black she-cat with ice-blue eyes. She is strong-willed but willing to please. She was elevated to deputy temporarily while Cometblaze was on the Journey to find StormClan.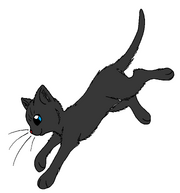 Affiliations:
Current: SandClan
Gender: female
Names:
Kit: Hollykit
Apprentice: Hollypaw
Warrior: Hollyfrost
Deputy: Hollyfrost
Family:
No information
Education:
Mentor: Rainstar
Apprentices: Brightwind, Heatpaw
Deputy:
Temporary for: Cometstar
Community content is available under
CC-BY-SA
unless otherwise noted.